This is the third day of the KDevelop / kate sprint in Vienna, and it's really fun and productive so far! There's several new things related to kdev-python which I'd like to write something about.
Beta release
First of all, there's a first official beta release of the python plugin, which is to be used with the (new) 4.4 (resp. 1.4) stable versions of kdevelop / kdevplatform! You can download the tarball here.
If you find any bugs, please report them here.
Please select "1.3.80" as the version.
I already was made aware of one more crash bug which is still in that release; that's fixed upstream (in the "1.4" branch).
Tuple type support
A notable new feature which was introduced recently is support for tuple types:
Tuple type support in kdev-python
There's still a few things missing for full-featured support, but the basic thing is there.
Python 3 support
I'm currently working on Python 3 support, if you want to try it out, check the "python3" branch. Be aware that it's very broken currently, tough (it will probably crash halfway through parsing your project). However, I'm hoping to get it into a somewhat usable state until the end of the sprint, so stay tuned!
(the above screenshot is already running the python3 version by the way)
Launch configuration dialog
Aleix and I (well, mainly Aleix) spent quite a bit of time on improving the launch configuration dialog, making it a lot easier to use and more visually appealing. It's not perfect yet, and there's a few bugs left, but it's far better than before ("yes, it's worth recompiling kdevplatform").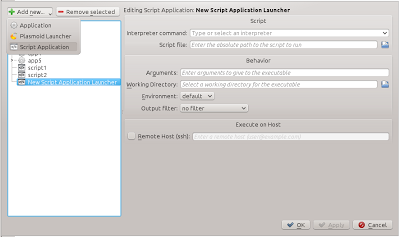 Improved Launch configuration dialog in kdevplatform master
Categories: Everything
Tags: kdev-python, kdevelop, planetkde, python
6 replies ›