Hi!
Five months have passed since the release of kdev-python 1.4.1, and it's about time for the next release! The 1.5 release will contain various new features and bug fixes, and also will work with KDevelop 4.5, which is to be released soon.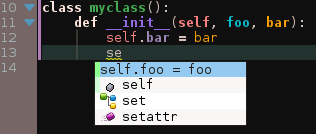 One of the new features in kdev-python 1.5: initializing properties in class constructors via code completion
Notable Bugs fixed
The following issues were fixed, among others:
312275 don't add brackets if importing functions
318802 fix quadruple-quotes from causing completion to malfunction
317998 issue with function definition ranges causing completion to malfunction
317808 correct inheritance completion with member access
309817 correctly build uses for declarations in some corner cases
309469 include documentation files for PyKDE and the rest of PyQt
308986 fix a rare crash with some function definitions
1d34b03 fix an infinite loop in the debugger plugin
031badc don't reparse files on session restart if not necessary
The numbers are the bug / commit IDs of the change.
Notable new Features
The following new features are worth mentioning:
333cf91 sort completion items based on name similarity
6dc24ad class attribute initialization completion
cd03cee PEP8 error checking. Enable it in "configure kdevelop" if you want to use it.
b3ba512 support adding watches in the debugger plugin

Name-aware variable sorting: Although "the_bar" comes first alphabetically, "the_foo" is sorted first because its name matches the left side of the expression. You can still get an alphabetical list by invoking full completion.
Features that didn't make it into 1.5 yet
Two things that I wanted in 1.5 but which are not there are Python 3 support, and GHNS support. The latter is just not ready yet (might be in 1.5.1 or 1.5.2, but probably 1.6), the former can only be released in Q1 2014, as explained here.
Get it
kdev-python 1.5 is to be used with kdevplatform 1.5, and only 1.5 (so, kdevplatform with version numbers >= 1.4.60 and < 1.5.40). It's not going to work with kdevplatform master, or kdevplatform 1.4.
Please test this RC thoroughly and report any issues you find to the bugtracker, so the final 1.5 release can be as nice as possible! Get the tarball from download.kde.org. The sha256sum of the tarball is
441f675baddbfb9832a49458cc3c9a17daac4db55e7312c7a85d184bc0f4c776
Have fun with it! (not with the checksum, with the program I meant… you know)
Categories: Everything
Tags: kdev-python, planetkde, planetpython, python, release
27 replies ›